When investing so much time and energy into our vacation plans it is important to prepare for every problem that you may face. Even when you try your best to plan everything out, traveling can still cause a lot of stress. Managing tight schedules, and possibly dealing with flight delays and cancelations can make your holiday extremely complicated. The best thing you can do for yourself to reduce some stress is to gain more knowledge of what airport suits you and your needs. Giving a hoot about what airport to fly to may be at the periphery of your mind, but it's a consequential decision that plays a substantial role in your travel experience. It can be hard to decide between Denver Airport, an international beacon of mystery/art, or Eagle County Airport a small quaint airport that gets you right to the edge of the winter action. Fear not! I have laid out what to know before you go. Here are some of the many advantages when choosing between the top 2 airports in Colorado.
Denver International Airport (DIA)
DIA is the largest airport in the US by square feet, and one of the busiest in the world. It is best known for its one-of-a-kind ceiling that mimics the snowy peaks and native American tepees that used to dot the surrounding grassland. This amazement is located 25 miles northeast of downtown Denver. You can expect roughly a 2.5–3-hour shuttle drive time to/from the ski resorts, and depending on the time of day you may get stuck in Denver's rush hour. Denver is considered an International Airport and serves up a smorgasbord of flight times and options compared to EGE (including international flights). In my experience, there is less chance of bad weather conditions, cancelations, and delays here than there is at EGE. This is unmistakably the place to fly if you're looking for a culturally immersive experience. The best thing about this hub is that it's filled to the brim with art. I mean unbelievably filled. There are paintings on the wall as you walk to your flight or to the restroom, there are also paintings everywhere else. Be sure to find my personal favorite "the painting of gale" and tell her I said hi! Another secret to keeping your eyes peeled for that only adds to the mystery and conspiracy of this place is the freemason insignia scattered around. If looking at people and things is not your cup of tea that's okay, you can dive face-first into some retail therapy instead! Denver Airport really turns up the heat with a gigantic district dedicated to nothing but shopping. They have so many places to choose from. Doggy daycare/ Spas, electronic stores some fine dining at Elway's, and everything in between. If that still isn't enough entertainment, they even have an Ice Rink to get some fun on before your haul up the mountain. It's open 12 hours a day, and completely free. There is a reason DIA was voted North Americas Best Regional Airport as well as the weirdest in the world.
View Denver Airport Shuttle Schedule here.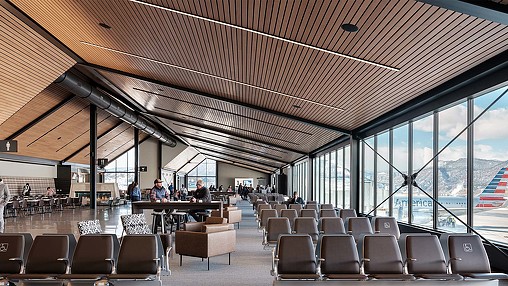 Eagle County Airport (EGE)
EGE, Vail Airport, Eagle Airport, and Eagle-Vail Airport are all names used to describe this fun little hive nestled right in the nucleus of the Rockies. The funny thing is… It is not located in the city of Eagle, Vail, or Eaglevail. It happens to be located in Gypsum, Colorado. This airport sits in the middle of all the major mountain resort communities. only a sweet 30 minutes from Vail, and 50 minutes from Breckenridge and Keystone. Compared to the long 2+ hour city commute that it takes to travel from DIA coupled with the potential chaos that comes with traveling through Eisenhower Tunnel, Vail Pass EGE makes travel time so much shorter. Not to mention there are quite a few snowstorms that make their landing right where the mountain passes are when traveling to and from Denver Airport causing frequent closures during the winter months. EGE is fast growing and increased its services in the summer of (2021). EGE's new capabilities include direct flights from Vail to over 200 domestic and international destinations, making this airport more accessible and affordable than ever. EGE is quickly becoming the preferred method for all travelers that are coming to the Vail Valley. The flights here have become increasingly reasonably affordable over the years, especially when you are visiting to be enveloped with all the summer and winter fun these world-class valleys have to offer. Eagle airport isn't always the first thought of destination when traveling to Colorado, but keep in mind it's got an outstanding safety record, and it's super close to everything. Private car service is going to be the most comfortable, flexible, and convenient mode of ground transportation to and from EGE. If these criteria are important to you, consider this airport.
No matter your airport preference or final destination this flying season you will always be able to rely on Peak1 Express to get you to your mountain destinations with ease. We specialize in Airport transportation, one-way, round-trip, private, hourly, and wedding services in Vail Valley, Copper Mountain, and Summit County. When you choose shuttle transportation it is not only the fastest mode but also the safest. All of our drivers are experienced and trained not only to perform in all weather conditions but also to provide you with quality service. What really makes us stand above the rest is access to a live agent eager to assist you 7 days a week. This season is going to be GREAT and we are here every step of the way to assist you in making the best and most educated travel decisions. Don't forget to book in advance to get the best rates and avoid any issues when it gets busy. We are proud to serve you in the Colorado Rockies dishing up world-class luxury transportation at an affordable rate.
View Eagle Airport Services here
PS: I'm excited to share with you! Soon we will also service Colorado Springs, Castle Rock, Boulder, and Fort Collins leading the scene in Rocky Mountain transportation.
About the Author
Mel Smith
Hi, I'm Mel. I am a Contributor to the Sales and Marketing team and a connoisseur of all fine feline things. Although I grew up in Arlington Texas, I fell in love with Colorado fast and have been a West Slope local for 10+ years. I find it a pleasure to share my experience of unfolding this colorful state from Denver to Grand Junction.