As we enter November, ski enthusiasts across Colorado are gearing up for opening day at their favorite resorts. With Keystone already open, Breckenridge and Vail opening on November 10th and Copper Mountain on November 13th, we cannot wait to shred some of the best powder in the country at our favorite resorts. Check out some unique aspects of each resort. 
Breckenridge
Breckenridge Resort, located amidst the towering peaks of the Tenmile Range, kicks off the ski season with a bang on November 10th. Known for its historic charm and world-class slopes, Breckenridge welcomes skiers and riders of all levels to its five peaks and diverse terrain. Breckenridge is also a haven for terrain park enthusiasts, boasting three world-class parks catering to all skill levels. 
Imperial Express SuperChair
For those seeking a panoramic view of the Rocky Mountains, the Imperial Express SuperChair is a must-ride. As the highest chairlift in North America, it takes skiers and riders to the summit of Peak 8 at a breathtaking elevation of 12,840 feet. Ride to the top and experience over 400 acres of extreme terrain. Be sure to check lift and terrain status before you go, as the Express SuperChair is not always open at the beginning of the season.  
BreckConnect Gondola
Ride from the town to the base of Peak 8 with the BreckConnect Gondola. This free, scenic ride whisks guests provides seamless access to the resort's world-class terrain, alongside stunning views. And if you still need your rentals, our favorite local ski and board shop, Breckenridge Ski & Sport can be found near the base of the gondola on Park Ave for easy pick-up and drop-off.  
Breckenridge Downtown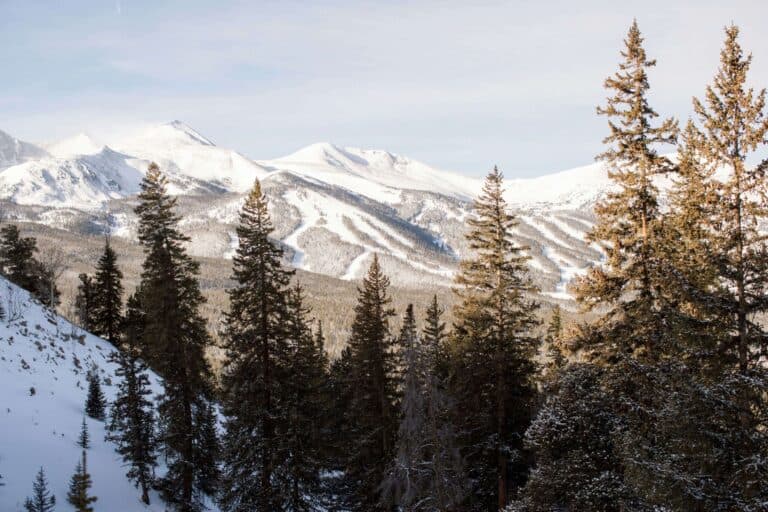 Breckenridge extends its charm beyond the slopes with its historic Main Street. Lined with colorful Victorian buildings, this charming thoroughfare is a picturesque blend of boutique shops, cozy cafes, and lively apres-ski spots. After a day on the mountain, indulge in a leisurely stroll, explore the local art scene, and savor gourmet cuisine in one of the town's many renowned restaurants. 
Vail
Just a short 40-minute drive from Breckenridge, Vail ski resort joins the season's grand opening on November 10th, appealing to thrill-seekers with its legendary terrain and upscale alpine villages. Vail's vast expanse of skiable terrain, framed by the iconic Back Bowls, promises an epic adventure.
Back Bowls 
Vail's Back Bowls are legendary, comprising seven vast, open expanses of pristine powder. Spanning almost 3,000 acres, these bowls offer an unparalleled skiing and snowboarding experience. From the challenging chutes of the Siberia Bowl to the wide-open spaces of Sun Up and Sun Down Bowls, these areas are a powder paradise for advanced and expert riders. 
Backcountry Skiing
For those seeking a backcountry feel within the resort boundaries, Blue Sky Basin is a hidden gem. Tucked away in the far-western reaches of Vail, this expansive area features glades, steeps, and wide-open spaces. With minimal development, Blue Sky Basin provides a secluded retreat for skiers and snowboarders looking to escape the crowds. 
Vail Village
Vail Village is also more than just a base area; it's a destination in itself. The village exudes a European-inspired charm with its cobblestone streets, charming chalet-style architecture, and a vibrant atmosphere. 
Keystone 
As of last week, Keystone Resort is open for skiing and riding! Located within Summit County, Keystone is a hidden gem in the Rockies that offers a diverse range of experiences for winter enthusiasts. From the tree-lined runs of Dercum Mountain to the challenging glades of North Peak, this Resort offers unique terrain. Families also enjoy Keystone's snow forts and tubing, where the littlest adventurers can unleash their creativity in the snow. 
Night Skiing
Keystone takes the ski experience to new heights with its renowned night skiing. The resort's extensive night skiing terrain includes both beginner and intermediate slopes, allowing guests to carve through the snow under the twinkling mountain sky. The combination of well-lit trails and the serene beauty of the night creates a magical atmosphere, making Keystone a standout destination for those who crave a different skiing experience after the sun sets. 
Snow Forts
Keystone's Snow Forts are a delightful addition to Keystone's family-friendly offerings, offering a winter wonderland where children and adults can have fun in the snow. For the '23 to '24 season, Keystone is opening a second snow fort in addition to its already existing fort on Dercum Mountain- the largest in the world! This second snow fort can be found at the Mountain House base area and will host a live DJ every weekend.  
Nordic Center
Keystone's Nordic Center offers a serene escape into the snow-covered wilderness. With 17 kilometers of groomed cross-country and snowshoe trails and 40 kilometers of backcountry trails, guests can explore the tranquil beauty of the White River National Forest. The Nordic Center opens on December 8th and also offers tours and lessons.  
Copper Mountain 
The anticipation continues to build for Copper Mountain Ski Resort's opening day on November 13th. Tucked away in the Tenmile Range, Copper is a haven for both seasoned skiers and those just beginning to carve their paths in the snow.  
Unique Terrain
Copper Mountain boasts naturally divided terrain that caters to different skill levels. The mountain is organized with beginner-friendly slopes on the west side, intermediate terrain in the middle, and challenging expert terrain on the east side. This thoughtful layout allows skiers and snowboarders to progress seamlessly from one level to the next, providing a well-rounded experience for all abilities. 
Woodward Copper
Copper Mountain is home to Woodward Copper, an action sports training facility that focuses on professional athlete development but also allows beginners to learn new tricks and skills. Woodward Copper features indoor and outdoor training facilities, including the Woodward Barn, a massive indoor training area with foam pits, trampolines, and ramps. This hub is not only a haven for snowboarders and skiers looking to improve their skills but also offers activities like skateboarding and BMX. 
As skiers and riders carve the first runs of the season, Colorado ski resorts usher in another year of exhilarating adventures down steep runs, bowls, moguls, and fresh powder. Whether you find yourself navigating the slopes of Breckenridge, exploring the expansive terrain of Vail, carving through the night at Keystone, or shredding down Copper Mountain, Peak 1 Express will get you there in plenty of time for all the fun. With convenient and affordable shuttles straight to your lodging, getting your ski vacation started has never been easier!