As the crisp autumn leaves give way to Colorado's winter wonderland, the landscape undergoes a dramatic transformation. Colorado's majestic Rockies, adorned in their snow-white splendor, become a breathtaking sight; however, with this seasonal shift, comes the inevitable challenge of winter driving in Summit County or Vail Valley.
At Peak 1 Express, we understand the importance of safe and reliable travel during the winter months. We'll take you behind the scenes to reveal how we meticulously prepare for winter driving in this picturesque yet challenging winter environment. 
Understanding Colorado Winter Driving
Whether Breckenridge, Vail, Keystone, or another ski resort is your final stop, it's crucial to understand driving conditions in the mountains. The Colorado Rockies are known for their steep mountain passes, unpredictable weather patterns, and rapidly changing road conditions. Snow and ice can blanket the roads, making travel hazardous. Highway I-70 is the main route between Denver and the mountains and can prove difficult for even the most experienced drivers. For this reason, Peak 1 Express constantly monitors I-70 road conditions during trips.  
Here's how we prepare to navigate these challenges:
1. Maintaining a Fleet for All Seasons: 
Our first line of defense against the winter elements is our meticulously maintained fleet of vehicles. Each vehicle undergoes thorough inspections and winterization procedures to ensure it's in peak condition to handle the toughest weather conditions before your shuttle service. This includes outfitting our shuttles with winter tires designed for superior traction on icy roads. 
2. Highly Trained Drivers: 
Our team of drivers is the heart of our operation, and their training is a top priority. Our drivers receive specialized training in winter driving techniques, including handling snow and ice, navigating mountain passes, and responding to sudden weather changes. They drive the route between Denver and the mountains multiple times per day and understand the road and weather conditions better than almost all other drivers. This expertise ensures your safety on the road.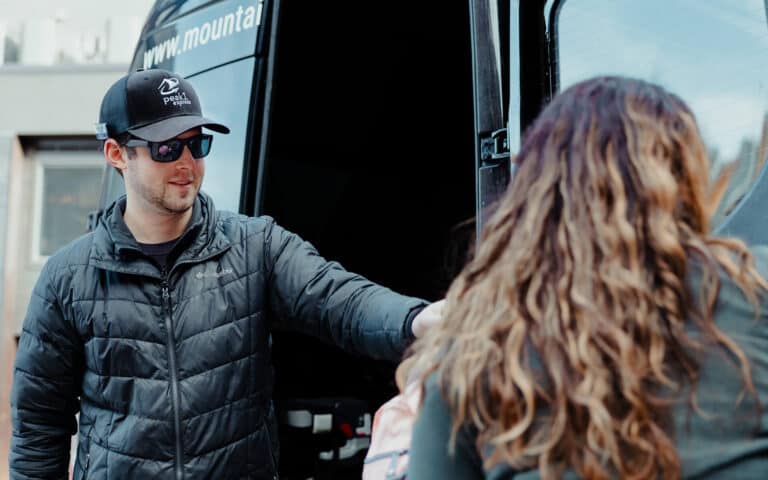 3. Monitoring Weather Conditions: 
In Colorado, weather can change in an instant, especially at higher elevations. We maintain a vigilant eye on CDOT alerts, weather forecasts, and road conditions, allowing us to make informed decisions about routes, departure times, and safety measures. This constant monitoring helps us adapt to changing conditions swiftly. Difficult sections include the Eisenhower Tunnel and Vail Pass, both located on I-70, and our dispatch team constantly checks for closures and hazards in these areas.

4. Increased communication:
Our drivers remain in constant contact with our dispatch team, who monitor road conditions and shuttles en route. Dispatchers will help drivers navigate the best routes given current conditions. They also communicate with the Eisenhower Tunnel staff to stay up to date on tunnel conditions or closers. 
Read even more about our storm protocol. 
Preventive Maintenance and Safety Measures
Preparation for winter driving is a year-round commitment. We take a proactive approach to vehicle maintenance and implement several safety measures to ensure a smooth and secure journey: 
1. Regular Maintenance Checks: 
Our vehicles undergo routine maintenance checks, with an emphasis on inspecting critical components such as brakes, tires, and heating systems. Preventive maintenance helps identify and address potential issues before they become major problems. 
2. Snow Chains and Traction Devices: 
In extreme winter conditions, snow chains and traction devices become invaluable. We ensure that our vehicles are equipped with these tools, ready to tackle slippery slopes and steep mountain passes. 
Route Planning and Coordination
When it comes to winter driving in the Colorado Rockies, route planning and coordination are paramount. Here's how we prepare in this aspect: 
1. Alternative Routes: 
We maintain a comprehensive knowledge of alternate routes and detours in case of road closures or adverse weather conditions. This flexibility allows us to adjust our routes to ensure your journey is as smooth as possible. 
2. Real-Time Communication: 
Our vehicles are equipped with GPS tracking and communication systems. This technology enables our dispatch team to stay in constant contact with our drivers, monitor their progress, and provide support if needed. 
3. Coordination with Local Authorities: 
We work closely with local authorities and transportation agencies to stay updated on road conditions and any potential hazards. This collaboration ensures that our shuttle service operates in harmony with official recommendations and safety measures. 
Passenger Safety and Comfort
Your safety and comfort are our top priorities. Here's how we prepare our vehicles and staff to provide you with the best winter travel experience: 
1. Heated Vehicles: 
Our shuttles are equipped with efficient heating systems to keep you warm and comfortable during your journey through the winter wonderland. 
2. Comfortable Seating: 
We understand the importance of a comfortable ride. Our shuttles feature spacious seating and ample legroom, ensuring a cozy travel experience. 
Winter driving in the Colorado Rockies is a unique and challenging experience, but with meticulous preparation and a commitment to safety, it's a journey we're well-equipped to undertake. As the seasons change and the Rockies don their winter coat, you can trust our mountain shuttle transportation service to provide you with safe, reliable, and comfortable travel to your ski resort or final mountain destination.
Whether you're embarking on a ski adventure, a winter retreat, or simply exploring the natural beauty of Colorado, our dedication to preparedness and passenger safety ensures that your journey will be as memorable as the destination itself.
So, sit back, relax, and let us navigate the winter wonderland while you savor the breathtaking scenery and enjoy the warmth of a cozy ride through the Colorado Rockies. We can't wait to welcome you on board!